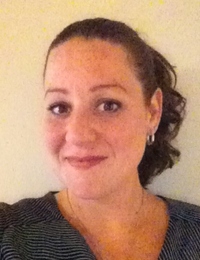 Dr. Alana Valentino, B.Sc., DC
Chiropractor/Clinic Director
I attended York University from 1997-1999 studying Kinesiology and Health Sciences. In 2003 I graduated from Logan College of Chiropractic in St. Louis, Missouri with a Bachelor of Science in Human Biology and a Doctorate of Chiropractic.
Valentino Chiropractic Clinic opened its doors in 2004 and has been serving the Alderwood community and more since then.
I hold professional memberships with the Canadian Chiropractic Association, the Ontario Chiropractic Association and the College of Chiropractors of Ontario. We continue to rank top place in the Etobicoke Guardian Readers choice awards for all of our services and more.
Along with Chiropractic care, I also provide Ear candling and Custom Orthotics.
I am in the office 6 days a week to make booking appointments easy for you. My office hours are:
Monday 11-5
Tuesday 2-7
Wednesday 11-7
Thursday 11-5
Friday 10-2
Saturday 10-2

Megan Orszulik, BPHE, RMT
Registered Massage Therapist
Megan graduated from Humber College's Massage Therapy program in 2018. She also has a Bachelor of Physical and Health Education from the University of Toronto. She was drawn to Massage Therapy because of a desire to help people and to help reduce and prevent pain experienced due to a number of causes. As a student, Megan gained experience working with children, adolescents, adults and seniors as well as in palliative care, with athletes and individuals with mental health conditions. She strives to provide every patient with an individualized treatment plan, and understands that every patient has different needs
Megan's office hours are:
Monday 11-5
Alternating Tuesdays 2-8
Wednesday 11-4
Thursday 12-7
Friday 1-3
Saturday 10-2
Mort Neek, R.TCMP., R.Ac., B.Sc
Acupuncturist & Traditional Chinese Medicine Practitioner
Mort Neek is a graduate from the Toronto School of Traditional Chinese Medicine (TSTCM). He practices Acupuncture, Traditional Chinese Medicine and Reiki. He is a registered member of the College of Acupuncture and TCM Practitioners of Ontario (CTCMPAO) and the Canadian Society of Chinese Medicine and Acupuncture (CACMA). He holds a B.Sc. in food science and is a certified in Reiki mastery and BODYTALK access.
He Started practicing at our clinic since 2006 and has many years of clinical practice experience. His scope of practice include:

-Acupuncture (Japanese style, balance style and TCM)
-Cosmetic Acupuncture
-Chinese Herbal Medicine
-TCM Diet therapy
-Reiki Energy Healing and guided meditation
-Fertility Acupuncture
He has extensive experience treating conditions such as stress, anxiety, insomnia, infertility, gynecological disorders, menopause, diabetes, high blood pressure, headaches, skin disorders, arthritis, fibromyalgia, degenerative and autoimmune disorders. For more details you can visit his website at
or email him at
acutcmreiki@gmail.com
He is available in the office on Tuesdays from 1:00-8:00 by appointment